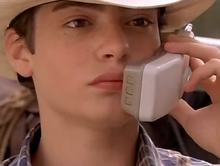 Andrew James Lawrence (born January 12, 1988) is an American actor. He is sometimes credited as Andy Lawrence or Andy J. Lawrence. He was the voice of T.J. Detweiler from 1998 to 2001, starting with Season 2's "The Game". He last played T.J. in "Lost Leader", and was replaced by Myles Jeffrey for the two direct-to-video movies after that.
He also played Andy Roman on Brotherly Love co-starring his real life brothers Joey and Matthew Lawrence, Vinnie Nasta on The Kids from Room 402, Tommy Biggs in Horse Sense and its sequel, Jumping Ship, and Rick in the Klasky-Csupo short Rock Starz.
Andrew Lawrence was the youngest cast member of the television series (Not counting the direct-to-video movies), being nine when recording for the second season began in 1997, and the youngest cast member to voice T.J., as both Ross Malinger and Myles Jeffrey were twelve when they started playing him. He was also T.J.'s longest voice actor, voicing him for fifty episodes and two movies.
Characters played
Trivia
T.J. is the first animated character Andrew Lawrence has played.
Links