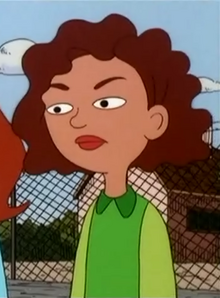 Ashley Tomassian ( a.k.a Ashley T.) is one of the Ashleys. She's Armenian-American. She rarely talks and follows more than the other Ashleys, but she is just as snobby (similar to Ashley B.). Like all of the other Ashleys, she has a little sister Brittany, and a little brother Tyler. She can also be a bit clumsy at times, and is considered to be the smartest of the girls. She usually wears a green sweater, green skirt, green socks, and brown shoes.
She was voiced by Camille Winbush in Season 1, and Ashley Johnson for the remainder of the series.
Trivia
She is one of the least talkative Ashleys, only reporting to have talked in the following episodes and movie special:
"Jinxed"
"The Pest"
She is one of the nicer Ashleys.