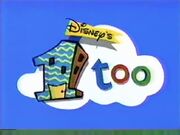 Disney's One Too was a spin-off block from Disney's One Saturday Morning, which began airing on UPN in September 1999. In areas where UPN was not available, the block would be syndicated, usually on independent stations or Fox, The WB, or ABC affiliates. Not every market carried the block. The block would air on Weekdays and Sunday mornings. It was similar to an earlier syndicated afternoon block from Disney, The Disney Afternoon, which lasted from 1990 to 1999. 
It was originally going to be named Disney's Whomptastic, but was changed due to the meaning of the word "Whomps".
Most shows airing on the block would be reruns of already-running One Saturday Morning shows, with the exception of Doug, which had already completed its run. Some shows, like Sabrina, The Animated Series would sometimes air their new episodes on the block instead.
Recess had Season 4 and Season 6 premiere on Disney's One Too, and also had the already-aired episodes reran. All of the episodes from Disney's One Too would be reran on ABC.
The block ended in 2003 due to Disney's contract with UPN ending. The timeslot used for Recess, 4:00 PM, would be used for Recess repeats on Disney Channel on weekday afternoons until 2005.