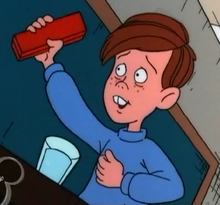 George Stemple is a former student at Third Street School. He only has a prominent part in the episode "Gus' Last Stand", in which he, along with his family, move away. This action forces Gelman, the resident bully at Third Street, to find a substitute victim in the shape of Gus.
Appearance
He wears a blue sweater, brown pants, and has brown hair. However, his appearance and attire changes between episodes - especially, when he was supposed to have moved.
History
He only makes a prominent appearance in the episode "Gus' Last Stand", moving away from Third Street - this being the catalyst for the episode. He is the boy whom Gelman previously bullied, before Gus became Gelman's new victim - treating him like a punching bag. Stemple, however, left the school because he moved location. Oddly, after moving and leaving the school, he still made cameos in many other episodes.
In some episodes, his skin color changes from white to black and hair changes from brown to blonde and his shirt from blue to red.
Community content is available under
CC-BY-SA
unless otherwise noted.