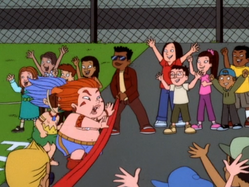 "Kindergarten Derby" is the fifth episode of the third season of Recess, which was first broadcast on September 25th, 1999.
Plot
---
---
Summary
The Kindergartners compete in a race to win a wish from King Bob, which Mikey objects to because of how exploitative it is to the kindergartners.
Main Story
It is the 25th annual running of the Kindergarten Derby, and every one of the older kids is excited about it; everyone except Mikey, who is still upset over what happened to him when he ran in the Kindergarten Derby, and believes that the playground tradition of the Derby is wrong.
When King Bob was selecting a kid to sponsor for the race, Mikey called out for him to end the tradition, but King Bob ignores him and selects a kid named Gilbert, then the Ashleys pick a kid, and even Mikey's friends picked a kid, but Mikey didn't. While sitting at a table at recess, Mikey meets a kid called Tubby, who wants him to be his trainer for the race, and Mikey reluctantly agrees. He later revealed that he did not complete the Derby, and was the only kid in the history to not do so.
After a few hours of training, the race would soon begin, and when it came time to bet on the race, Mikey initially was going to place a bet of one Winger-Dinger, but when everyone laughed at him and made fun of Tubby,
Mikey angrily bet 37 Winger Dingers on Tubby. Then the race began, and Tubby was off to a standing start, way behind the other kids, but unlike Mikey, when he got to the water part of the course, he walked right through it, and when he got to Clown Slalom, he barreled his way through the clowns instead of avoiding them, but when he got to the Valley of Distraction, Tubby kept going and he eventually catches up to Gilbert and wins the race and uses his wish to abolish the derby. King Bob reluctantly agrees, making Mikey very happy.
Goofs
Animation/continuity error: After Tubby finishes the race, Tubby's earrings disappear while Mikey is holding him, they reappear afterwards.
Trivia
Regular
The Kindergarten Derby in this episode was the final derby at the school (1997-1998), and has been going on for 25 years, since 1972-73.
This episode was part of the DTV movie Recess: All Growed Down.
Continuity
This is the first appearance of Gilbert.
This is the third episode it has one of the main six kids in kindergarten.
Stinky Peterson makes a cameo in this episode.
International Information
Cast
Community content is available under
CC-BY-SA
unless otherwise noted.