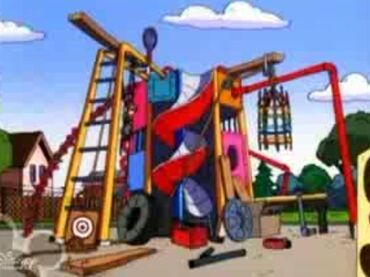 This is the Jungle Gym that usually holds the throne of the reigning king of the playground. For the entirety of the series, it belonged to King Bob, but was later passed to King Freddy II. It has also been used for other purposes, such as deploying the Gelminator 6000.
At one time, Randall blackmailed his way into being named a prince within the royal court with all the power associated with the position. During his tenure as heir apparent, Randall installed a dungeon under the Jungle Gym to house disobedient kids who would not (or could not) comply with his decrees.
It was repossessed, along with Old Rusty and the rest of the playground when the Board of Education implemented new policies but after a successful protest by T.J. Detweiler, the Jungle Gym, along with the rest of the playground, was reinstated.