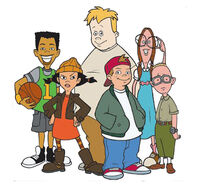 Recess is an American animated television series created by Paul Germain and Joe Ansolabehere for Disney's One Saturday Morning, produced by Walt Disney Television Animation. From its launch on September 13th, 1997, to its cancellation on November 5th, 2001, the series had broadcasted 65 episodes, with 2 stories per episode, having 128 stories.
The series focuses on six elementary school students and through their situations, adventures, etc. within Third Street School, the local elementary school of the eponymous town, where much of the setting takes place in recess breaks on the gang and their interaction with classmates, staff, etc.
Seasons
Since there are 128 episodes of Recess, far too many to list on one page, this page has been broken down into season pages.
Films