THIS WHOMPS
Stub templates just show off a wiki's flaws. Instead of using a stub template, make the page better!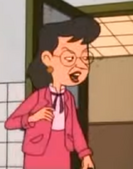 Mrs. Weems is the mother of Randall Weems and the wife of Leonard Weems. She is a working mother while her husband Leonard runs the household.  
Trivia
In Recess: School's Out, it is revealed that she is friends with T.J.'s mother and had organized a "play date" between their sons while T.J.'s five best friends (Vince, Spinelli, Gretchen, Mikey, and Gus) were all off at camps for the summer. 
Within the Weems family, she serves as a Ms. Finster-like authority figure, with Leonard and Randall as her loyal snitches.