"I don't have any cookies. My mommy doesn't allow me to have sugary snacks."
―Peanut Butter Kid
Peanut Butter Kid (also known as Sandwich Boy) is a younger student of Third Street School.
His real name is unknown, having never been stated. His mother forbids him to eat sugary foods - this fact leads his character's direction in both of the episodes that he has predominate parts in.
He has appeared in several other episodes as a background character.
History
In this episode, he is brought before the then King Gus after he fails to satisfy the conditions of the playground-wide Cookie Tax that he had imposed. After explaining to Gus that his mother doesn't give him sugary foods, hence he is unable to pay the tax, Gus, not caring about the kid's mother or anyone else, tells him that that is the law and sentenced him to hard labor. This was his only speaking role.
In this episode, he is painted as an antagonist and bad-luck charm. This is mostly due to him being around people/events before they turn sour; it would later turn out that the real cause of these events was accidental. For most of the episode, he follows The Recess Gang around as their mascot (this leads to him being given the nickname "Peanut Butter Kid"). This episode was almost entirely directed around him.
Once with the gang, they seem to follow a series of unfortunate events over a number of days. They eventually draw the conclusion that as the accidents started - and continue to happen - under the presence of the Peanut
Butter Kid, he must be the one who is causing these occurrences to happen. He is sent away from the gang; however, their bad luck continues, proving that it's not his fault. The gang eventually finds him and apologizes. When it is shown that he finally found friends to hang out with, and they call him over, he gives the gang the rest of his sandwich (Mikey takes it) as a sign of forgiveness and, as Mikey puts it, to remember him by.
He is impossible to get rid of without telling to go away and can move at implausible speeds, as he was able to instantly reappear near the gang despite being sent across the city, the state, or even China (even having time to get a Chinese-style sun hat and traditional garments.) He is always seen eating a peanut butter sandwich because, as mentioned in the "King Gus" section, his mother forbids him to eat sugary foods.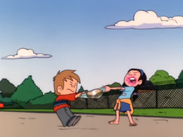 In this episode, he can be seen fighting amongst the playground with Ice Cream Girl - over a sandwich. He has a line in this episode: "It's mine."
Community content is available under
CC-BY-SA
unless otherwise noted.