Welcome

user

, to the Recess Wiki, database of information all about Disney's hit '90s animated television series Recess, which has been made for the fans, by the fans. The television show ran for six seasons, 127 episodes, between August 31st, 1997 – November 5th, 2001. We are currently managing a massive 627 articles, 4,567 images, and 44,344 edits.




Recess portrays the lives of six fourth graders as they go about their daily lives in a highly clichéd school environment. The students of Third Street School have set up a microcosm of traditional human society complete with its own government, class system, and set of unwritten laws. They are ruled by a monarch, who has various enforcers to make sure his decrees are carried out. The little society has a long list of rigid values and social norms that imposes a high expectation of conformity upon all the students.
Click on a character's image to be linked to their page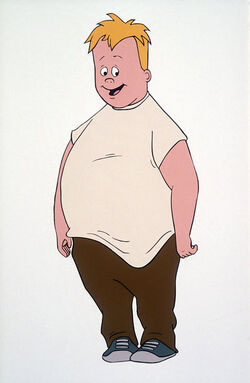 Michael "Mikey" Robert Blumberg is one of the six main characters and a member of The Recess Gang. He is the most sensitive and most forgiving in the group. He is also the best poet in fourth grade, coming up with poems at any times. Like T.J., he is of German heritage.
Facts you probably did not know about him:
His singing voice was performed by the late Robert Goulet.
Mikey is the only member of the main six whose birthday has been celebrated in an episode, which was "Bonky Fever", Gretchen mentions her birthday party in "The Girl Was Trouble", however, it was only a flashback.

This episode confirms that Mikey is the oldest member of the group, as they mention he is the first in their gang to turn 10. Therefore, his birthday is before March 23rd, which is Gretchen's birthday.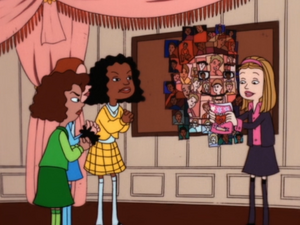 "My Funny Valentines" is the twelfth episode of the third season of Recess, which was first broadcast on November 13th, 1999.

Facts you probably did not know about this episode:
This episode and "That Stinking Feeling" are considered the Valentine's Day episodes of the series, however, the episodes did not air anywhere near the Holiday.
The first girl who talks to T.J. about her valentine is voiced by E.G. Daily when she first speaks. However, later in the episode, she is voiced by Mayim Bialik.
The heart design on Ashley B.'s valentine bag resembles the heart background shown at the end of every episode of The Powerpuff Girls.

Not sure where to start?
Find out more about the wiki on the About page.
Don't remember the show? Get Déjà vued here.
If you are new to wikis, check out the tutorial, and see Help:Contents.
Check this out if you're setting up the wiki.
You can find a list of useful templates here
Adding content
Thanks for being here! Wanna sign our Guestbook?

Latest Blog Posts
I just thought I share my little Recess collection with you guys. I hope you like it :)
It contains:
The four official plush dolls (T.J., Vince, Gretchen and Gus)
Two custom plush dolls (Spinelli and Mi…

Tggtt
•
After one year, I am here once again to remind you that according to Outcast Ashley, Gretchen Grundler's birthday is on March 23rd.

This means she would be 33 years old today...

This also implies that…

Harold was rushing to give his "safety man," Russ, a note. When he saw him, he ran, but tripped up over his laces. Russ tied his shoes for him and Harold said that his mom wants him to pick him up th…
See more >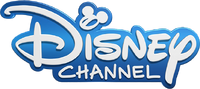 Community content is available under
CC-BY-SA
unless otherwise noted.