Third Street School is an elementary school located on Third Street in an unknown town and is the main setting for almost every episode of Recess. The school is named after both the street itself and the streets' namesake, Thaddeus T. Third III.
In the episode '
My Fair Gretchen
' it is revealed that Third Street School is located somewhere in the state of Arkansas and maybe even the city of Little Rock, but the exact location remains unknown. Perhaps the most notable features of Third Street School are the ever present clock on the back of the main building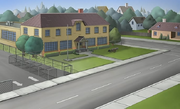 ; the playground and particularly
Old Rusty
, the jungle gym on which much of the story depends. Third Street School is also unique; There are many secrets hidden inside and outside the walls. Its first class was held in 1928.
The school teaches grades K through 6th and feeds into Spiro T. Agnew Middle School. Third Street uses the Arkansas State Exams, which could put it as E Stem Public Charter Elementary School on West Third Street in Little Rock. The school does resemble some satellite outlines as the Third Street School in Los Angeles, CA, which would make sense as in Recess: School's Out, Dr. Benedict mentions California freezing even though he first mentioned flooding on the east which could support a Third Street School in Belvidere, NJ.
Trivia
In the Episode 'Spinelli's Masterpiece', T.J. gives Knarf the coordinates 40.5 N, -80 W to locate Spinelli's drawing. That puts Third Street near 1621 Saw Mill Run Blvd., Pittsburg, PA, 15210, USA.
Gallery