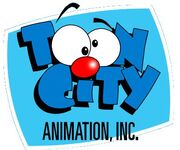 Toon City
is an animation studio in Manila, Philippines, founded in 1993. Its primary contracter is
Walt Disney Television Animation
and DisneyToon Studios, with their first work being
Bonkers
. It has also done animation work for Nickelodeon, Warner Brothers, Universal, and Cinegroupe.

Toon City did animation for various episodes of Recess (Beginning with season two), starting with "Dance Lessons" and ending with "Bonky Fever". Being the primary animators for Lilo and Stitch: The Series, they have also done the animation for the show's crossover with Recess, "Lax".
Among the Recess fandom, Toon City is often criticized for its' constant exaggerated and off-model animation of the show.
Other Disney shows with their animation include various Winnie the Pooh television specials, Aladdin, Gargoyles, Timon & Pumbaa, Quack Pack, Mighty Ducks, 101 Dalmatians: The Series, Mickey Mouse Works, Buzz Lightyear of Star Command, Teacher's Pet, House of Mouse, Kim Possible, Teamo Supremo, Brandy & Mr. Whiskers, The Emperor's New School, The Replacements, and Gravity Falls.
Disney films with their animation include Hercules and Atlantis: The Lost Empire along with Walt Disney Feature Animation, and Belle's Magical World, The Lion King 1 1/2, Teacher's Pet, Tarzan and Jane, Kronk's New Groove, and Tarzan II along with DisneyToon Studios.