| | |
| --- | --- |
| | This user is an administrator of the Recess Wiki. Feel free to message them for queries, permissions, or just for a chat! |
| | |
| --- | --- |
| | This user is a bureaucrat of the Recess Wiki. Feel free to message them for queries, permissions, or just for a chat! |
Hey! I'm Trance, I picked this show up when I was 12 and started editing here. I've watched every episode and every movie. I, sort of learned the whole Script unknowingly, since I have all the movies and episodes saved, you can say I was a recess addict
.
It has been years and I've moved on, but it has been fun here, thanks a lot for that! I'll still come here once every while to see how it's working out, but I guess that is it for me.
I first saw the show on Disney Channel India, years ago. I forgot much of the series, except parts of only 6 Episodes: "The Big Prank", "Speedy, We Hardly Knew Ye", "Me No Know", "The Hypnotist", "Mikey's Pants" and "Kindergarten Derby" and the movie Recess: School's Out. When I came across it on the internet, my brain suddenly turned into a remembrall and I downloaded it. This way, I watched the whole series and the movies.
My hobbies are cycling, gaming, reading, watching anime and blogging. I was born in 2001, which proves that Recess is not a show only for the "90's kids".
My strategy in making this wiki perfect is: First add all the required pages and information, then bring uniformity. I've been on this Wiki for around 3 Years.
I'm an Admin here. If anyone wants to report vandals, have any page edited, or any other stuff, you can count on me. Don't hesitate, just send me a message.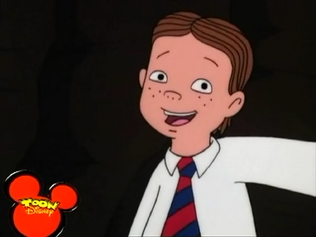 My Favorite Episodes
Community content is available under
CC-BY-SA
unless otherwise noted.