Jurassic World: Dominion Dominates Fandom Wikis - The Loop
Play Sound
"If you start something, you might as well finish it."
―Vince
Vincent Pierre "Vince" LaSalle is one of the main characters of the television show Recess. Out of the six members of the Recess Gang, he is known to be the most athletic.
Personality
Vince's superior athletic abilities compared to those of his friends often made him egoistic. However, deep down, he knows how important his friends are to him. He is also very competitive and often competes with Lawson and his gang. In the Recess Gang, he and Spinelli are considered T.J.'s right hand man.
Relationships
Mikey looks up to Vince, which is the focus of the episode "Copycat Kid". Mikey wishes he could be "cool" like Vince and be sporty (and was quite capable of shooting baskets in the episode) until Vince copies him. In the end, Mikey realizes the value of himself as an individual, and the two remain good friends afterward.
Gretchen and Vince are good friends but have a rivalry. Most of their friendship is seen in "The Candidates", where they are put against each other for Class President. They are competitive until the end, where Vince realizes Gretchen truly deserved the spot. They end with Gretchen saying "a game of tetherball against a good friend". They have their moments of arguing and disagreeing, but also appear to be good friends.
Many have speculated Vince and T.J. to be best friends. In "The Barnaby Boys", Vince and T.J. act as characters from their favorite book. They are seen doing a lot of things together back in second grades, such as being in the same Boy Scout troop or making up the word "Whomps". However, in "The Break-Up", T.J. can't bring himself to say Vince is his best friend. Vince is also occasionally ambivalent about T.J.'s plans, especially at the beginning of the show. It is thought T.J. shares the most interests with Vince, but he is an equal friend in T.J.'s sight.
Both Vince and Spinelli are considered T.J.'s Right Hand. They are good friends but do not interact as much as they do with other members of the gang.
Vince and Gus do not interact as much as they do with other members of the gang. They were shown to do a project together in "Good Ole T.J."
Family
Vince has unnamed parents and an older brother, Chad, who is a geek. Although he and Vince are very different, Vince looks up to him. According to the episode "Gretchen And The Secret of Yo", his father does the taxes of Tommy Tate, which implies he is a Certified Public Account.
Appearance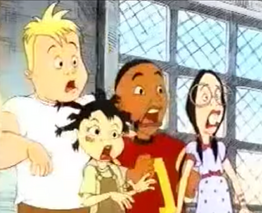 He is a tall, slender, and athletic boy with black hair. He is taller than Gus, T.J., and Spinelli, but is shorter than Mikey and Gretchen. Vince wears a light grey t-shirt with darker grey stripes on the sleeves and a darker grey collar, a sleeveless green basketball jersey with a golden number one symbol on it. He also wears dark grey shorts and black and white sneakers. He is often seen with a pair of yellow wristbands.
Vince looked slightly different in the unaired pilot from 1996 (which would eventually be remade into "The Break-In"). In it, he had the same hair color, but his hair was in a buzz cut, he wore a red T-shirt with a yellow "1" on it (some earlier sketches showed the "1" as a "V"), and had a slightly "older" look, like a teenager, though he had the same shorts and sneakers. The show's creators, Paul and Joe, once stated that they had to go through a lot of hairstyles before choosing the right one for Vince. In the episode "I Will Kick No More Forever", his '1' changed to '0', describing his loss of confidence.
Foreign Voice Actors
Arabic: Hussein Raouf
Brazilian Portuguese: Vagner Fagundes
Castilian Spanish: Manuel Gimeno
Danish: Mathias Klenske
Dutch: Maikel Nieuwenhuis
Finnish: Samuel Harjanne
French: Dimitri Rougeul
German: Kim Hasper
Hindi: Prasad Barve
Hungarian: Bíró Attila
Italian: Monica Ward
Japanese: Hayato Taya (First half of series)/Miyu Irino (Second half of series)
Latin Spanish: Alejandro Millián Cervantes
Malay: Azizah Jais
Norwegian: Even Rognlid
Polish: Jędrzej Łagodziński
Portuguese: Miguel Teixeira
Swedish: Sebastian Paulsson
Taiwanese: Liu Jie
Trivia
Like Gretchen and Spinelli, Vince is one of the only members of the main six to keep the same voice actor in every episode, movie, and the Lilo & Stitch crossover.
While playing kickball, he kicks with his left leg and throws with his right hand.
According to the original Recess website in the late 1990s, Michael Jordan is Vince's idol.
He has been the Class President every year since kindergarten, except fourth grade. It is unknown whether who became the class president in fifth grade.
Vince is based on Paul Germain and Joe Ansolabehere's friend in college also named Vince.
Vince has appeared in every episode of the series.
According to "Teachers Lounge", Vince has a dog, but it is unknown what its gender and name are.
His peewee pal was Jake.
He stood up to Chucko.
He gets fan-mail from Brasilia addressed to El Yanki Fantastico.
Although Third Street School does not allow students to wear shorts, Vince is allowed since he plays basketball.[1]
He is one of the only two members of The Recess Gang to have black hair. The other one was Spinelli.
References
Gallery